Recently, the launch of Shengdu Home Decoration's ("SD") "One Heart One Billion" global decoration alliance and its 20th anniversary launching ceremony were successfully held in Hangzhou. Upon launch, 3TREES officially joined the "One Heart One Billion" global decoration alliance, becoming one of 17 members of the alliance. The strong alliance between 3TREES and SD will bring consumers better and healthier products and a better and warmer home decoration service experience.
At the launch, Jia Huaqin, chairman of the Zhejiang Architectural Decoration Industry Association, Yun Zhirong, former president of the association, Yu Rongsheng, deputy head of Gongshu District, Hangzhou, Lou Wei, secretary of the Party Work Committee of Xiangfu Street, Gongshu District, Hangzhou, and Hu Yanan, General Secretary of Decoration and Parts Industry Branch of China Building Decoration Association and other leaders were present.
Important representatives and members of SD, 3TREES and other famous alliance companies celebrated the establishment of the "2022 One Heart One Billion" alliance. Industry celebrities, such as Zhang Yongzhi, Vice President of Yoju, President of Yoju Research Institute, Chen Yanfei, Vice President of Yoju, Zhang Feng, Vice President of Association of Zhejiang Architectural Decoration Industry, Executive Deputy Director of China Culture Commission of Human Settlements, Chinese Culture Promotion Society, Founder and Design Director of Hangzhou Fangcun Architectural Design Bureau, Huang Jingmei, Founder of Mr. Stylish , Director of China Commission on Culture of Human Settlements, Chinese Culture Promotion Society and Founder of ADCC Living Art Institution, and Wang Tonghu, General Manager of Decoration Painting Department, 3TREES were present and witnessed the event. More than 30 industry media companies were also on hand to report on this unprecedented event.
The Strong Alliance Capturing Critical Changes in the Home Decor Industry
In 2022, in the face of China's economic environment changing from high-speed growth to high-quality development, as well as increasing spending on improving people's living conditions, becoming an important pillar of consumer changes, the overall decoration mode has gradually become the orientation. Driven by the environment, the entire home décor industry is also facing unprecedented changes.
The "One Heart One Billion" strategy, taking SD at heart, unites major branded home decoration enterprises, integrates their resources, and amplifies the advantages of group purchasing, which is an optimization of industrial structure. 3TREES joining this year's robust upgraded version of the "One Heart One Billion" strategic alliance has built a strong alliance with the "like-minded" friends, which will provide customers with a less time-consuming and energy-consuming interior design experience with better products.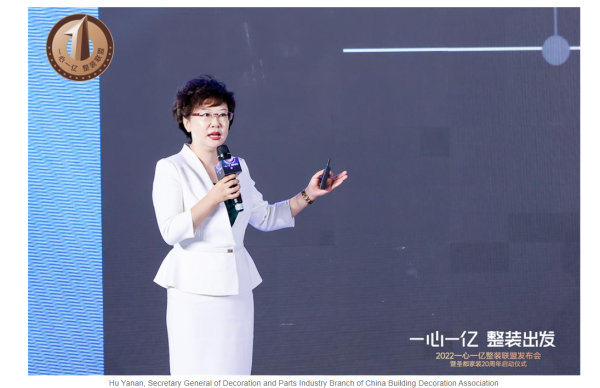 Hu Yanan, general secretary of the decoration and spare parts industry branch of the China Building Decoration Association, said, "The 'One heart, one billion' alliance was established to solve the painful uncertainty about interior decoration. The ability to integrate the supply chain is the core of a company's competitiveness in the future. With the strength of digitalization, as well as the reverse transmission of pressure from the whole market, brands need to move towards synergy and integration, forming a product-based and customer-oriented situation in order to achieve the effect of super fission of '1 + 1 + 1 = 111'.
The "One Heart One Billion" strategy, taking SD as the core, unites the leading brand home decoration companies. Since the launch of the strategy in 2021, SD has partnered with 8 leading industry brands to upgrade its supply chain system and promote the real transformation of the B2B2C model. 3TREES joining the alliance will once again foster a win-win cycle for SD, its partner brands and its customers.
The core of 3TREES' corporate culture is "imitation of nature", and the core value of SD is to "follow the right path". Both parties have the initial aspiration to provide a better life for people. In terms of corporate culture, DD and 3TREES go hand in hand.
Wang Tonghu, general manager of decoration paint department, 3TREES, said in an interview, "Shengdu Home Decoration, very strict in the selection of its material supply chain system, has cooperated with all the top brands of the building materials industry. Now, Shengdu is deepening its supply chain, beginning the industry chain upgrade for home decor industry and creating better home decor service with 3TREES. 3TREES will provide environmentally friendly, quality and healthy paint products, and work with Shengdu to provide consumers with safe and satisfactory service. 3TREES and Shengdu will continue to leverage their respective brands, products and channels, and deeply bond from front-end users to back-end after-sales service, to present quality services to users. "
Mr. Wang also mentioned that this year marks the 20th anniversary of SD, which is also the 20th anniversary of 3TREES. The two companies are deeply connected, both in terms of future strategic development and cultural philosophy. 3TREES is very honored to cooperate with SD for long-term cooperation and provide people with a better home life.
Yan Weiyang, Vice President of Beike and Founder of SD, said in an interview: "3TREES has promoted the development of the entire paint industry in China, and SD is also a leading company in the industry. interior decoration. We hope to cooperate with excellent leading enterprises to promote better industry development, especially with such good and cost-effective products, so that domestic brands can become more and more well-known and serve consumers better.
3TREES accepting changes in consumer groups and responding to personalized needs
The current post-90s population has gradually become the main force of home decoration consumption. When asked if 3TREES has set up a business department for young people, Wang Tonghu, General Manager of Decorative Painting Department, said, "3TREES communicates with its potential consumers in the way that young people love more effectively and deeply. . Through online and offline channels, we have created highly creative and fashionable interactive games, achieved cross-industry resonance of broadcast messages, and attracted significant flow for marketing our brands.
The way of life of young people is changing, as is the family environment. 3TREES has paid close attention to the changes in the industry, so it comes up with new lifestyle value, hoping to explore the possibilities of the eager lifestyle with users and understand the diverse and personalized needs of people. a wide range of users. Mr. Wang also mentioned that the "younger generation" has become the pioneer of the furniture industry in recent years. 3TREES spokespersons Wu Dajing and Gu Ailing are typical representatives of the younger generation, energetic, aspiring, hardworking and full of passion.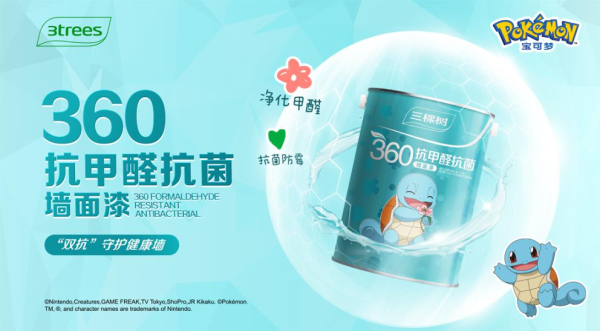 3TREES also targets the younger generation in terms of product development. It cooperated with the world-class IP, Pokémon. The interesting and well-known IP attracts more young users to pay attention to the 3TREES brand, which is also a positive attempt of its strategy targeting the younger generation. At the same time, 3TREES focuses on high-end products and services, with the research and development concept of "ultimate health, ultimate performance and ultimate application", and "green, environment-friendly and healthy" all the way. along the process of its product. development. Meanwhile, it has always devoted to the research, development and application of environmentally friendly and energy-saving low-carbon products, set the standard "healthy products determine working conditions Healthy Living" and set the "Health+" enterprise standard, higher than most international health standards, providing users with healthy and environmentally friendly green products, protecting the health of every family.
As a leader in the paint industry, 3TREES always practices the core value of win-win with its partners and will continue to promote the healthy development of green and healthy products and the industry in the future by working with SD and more industrial chain partners.
Original source: https://www.3treesgroup.com/en/news/news_info/536.html
Media Contact
Company Name: SKSHU Paint Co.,Ltd.
E-mail: Send an email
Call: +86 0594 2761989
Address:Headquarters: 518 Liyuan North Avenue, Licheng District
Town: putian
State: Fujian, 351100
Country: China
Website: https://www.3treesgroup.com/en/